A look inside a new, ultra-fast Lady Bulldogs' offense
Georgia already likes to run in transition, but this takes it to a new level. What might be the result?
Georgia guard Sarah Ashlee Barker (3) during the Bulldogs' practice session in Athens, Ga., on Wednesday, Oct. 22, 2020. (Photo by Tony Walsh)
ATHENS, Ga. — One team sat below Georgia in points per game last season. The other 12 programs in the SEC scored at a higher clip.
The Lady Bulldogs have built their offensive identity around playing in transition. More times than not, head coach Joni Taylor had her players moving at a faster pace rather than working in a half-court set. The consistent and explosive results, however, were still missing.
Taylor and her coaching staff spent plenty of time reviewing last season's film, and pinpointed an offensive deficiency. Georgia scored 63.2 points per game through the 2019-20 season, only ahead of Ole Miss and 20.2 points behind the No. 1 offense in Arkansas which played 40 minutes of full-throttle basketball.
"If you watched in years past, we'd be running and have people down the floor," Taylor said. "We either missed them, gave it too early, too late or didn't know exactly what to do when catching it."
At the core, Georgia basketball isn't changing its philosophy. But it's becoming modernized and upgraded.
The Lady Bulldogs pulled back the curtain on a new offensive system. It'll be faster — to give an analogy to the technology world, think of it as the shift from 4G cell phone service to the new, trendy 5G. The only difference, however, is that this is becoming quickly available inside the team facilities.
"We're playing with an 8-second and 15-second shot clock," Taylor said. "We want to get into that mode of getting up-and-down the floor, scoring quickly and knowing what those options are."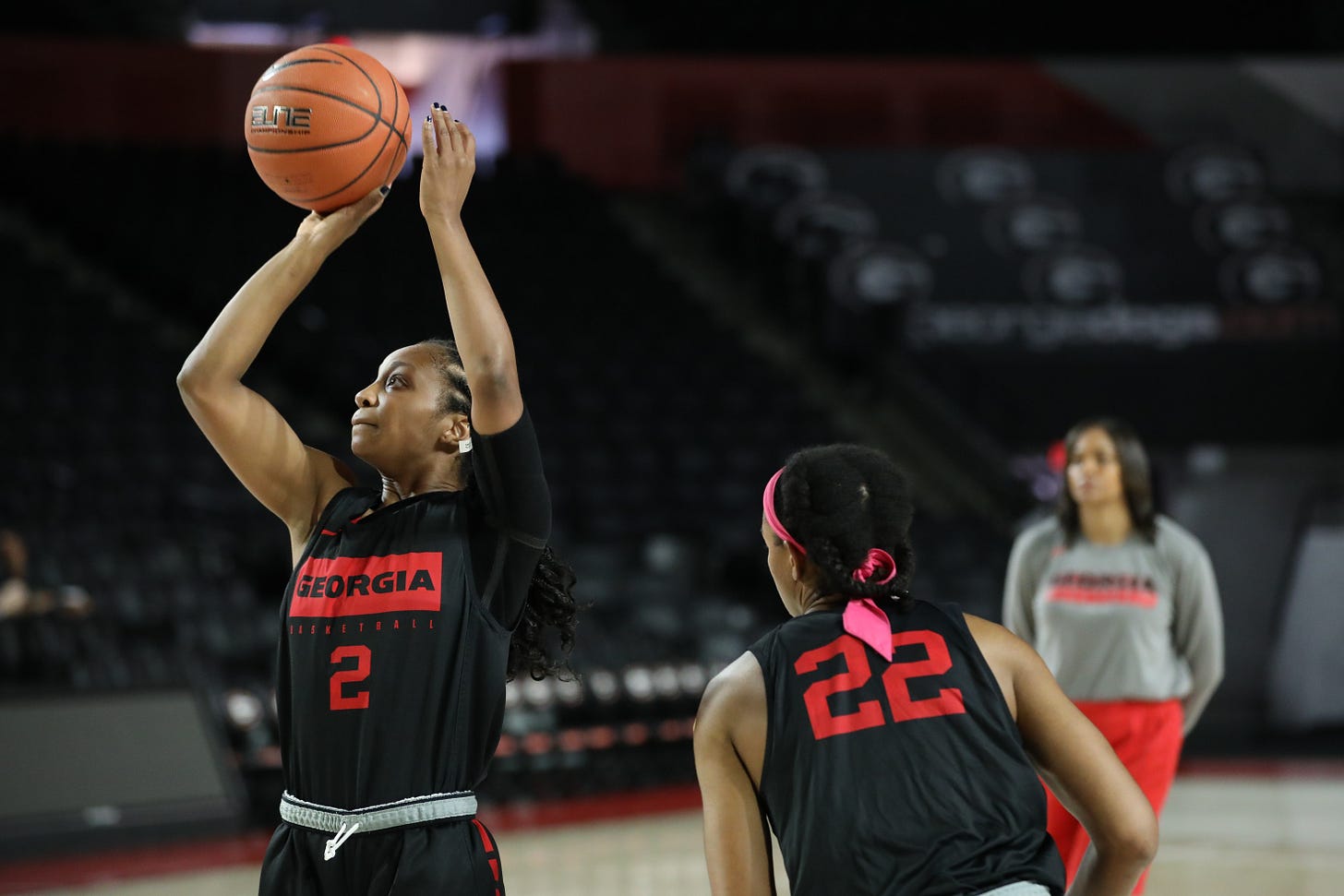 Georgia guard Gabby Connally (2) during practice in Stegeman Coliseum in Athens, Ga., on Wednesday, Oct. 9, 2019. (Photo by Tony Walsh)
The defensive focus won't disappear. The ideals of playing smart, disciplined basketball are staying put. A new offensive approach comes with the hopes of bringing Georgia more success and an eventual return to the NCAA tournament. The NCAA released its new evaluation tool to supersede the Rating Percentage Index (RPI). The metric, which debuted in men's basketball two seasons ago focuses on efficiency or, in simpler terms, points per possession.
Georgia saw a glaring need for improvement in points per possession. The Lady Bulldogs have started to track it in preseason practice, which officially began Oct. 15, and will continue to be an area of emphasis throughout the season. In turn, the goal is that more possessions for Georgia lead to a higher average.
"It'll allow us to play fast. That's always been one of the things we've been big on," point guard Gabby Connally said. "It'll be really fast, and there is structure within it. Everybody has a lane to fill and knows where they're supposed to be. I really enjoy the system."
Added Taylor: "We know what our looks are. Everybody can be involved in that. It's going to be fun. We're going to get up and down the floor a lot quicker."
A single glance at Georgia's roster and the recent strides of numerous players validate the plan for a revitalized offense. The Lady Bulldogs feature four seniors in their lineup, including 6-foot-5 forward Jenna Staiti who went on a double-double tear at the end of last season. In addition, Que Morrison has returned from a torn labrum and has returned as a better shooter.
The sophomore trio is led by guard and speed merchant Chloe Chapman, who will join the program once soccer season ends after the SEC tournament from Nov. 13-22. The roster is enhanced by three newcomers (Rutgers transfer Maori Davenport also joined the team but did not plan to seek an immediate eligibility waiver as of April) — freshmen Zoesha Smith, Sarah Ashlee Barker and UConn transfer Mikayla Coombs. Barker had a slew of 30-point games as an Alabama state champion at Spain Park, Smith's athleticism received a comparison to Caliya Robinson from her head coach and Coombs wants to focus on facilitating as a multi-purpose guard.
A 13-deep roster features plenty of depth and versatility, despite the losses of Kaila Hubbard (opt out) and Shaniya Jones (dismissal). The rotation allows Taylor to tweak the scheme in hopes that it can elevate Georgia's play.
"We have as much offensive talent this year as we've had in a long time," Taylor said.
In order for the system to work, Georgia has prioritized player-to-player accountability. Most of the players have been doing extra work to raise their level of play. Connally takes time to cut down on her turnovers and become a more-efficient passer, because she said the miscues happened "way too much" for a point guard. Staiti has remained in shape, focused on ways to score or assist through a double team and believes her role in the new offense can "collapse the defense and allow teammates to get open."
There's also a call for enhanced leadership. The upperclassmen won't hesitate to call out a mistake in practice or be a louder voice in helping a teammate. Taylor said sophomore Jordan Isaacs has no fears of speaking up and "says it the right way."
"It speaks to team culture if a player is able to step up and say something if they see someone not doing something correctly," Connally said. "For the other player to also be spoken to, listen and not make it seem like it's coming to a negative standpoint. We should take heart in what they're saying."
A month remains until the season begins. Once Georgia gets its first possession, it'll have a different, quicker feel.
The result of an ultra-fast system? More points and far from bottom-dweller status. More possessions. Maybe more wins.
"We want to get about 10 more points a game than what we averaged last year," Taylor said. "That puts us top four or top five in the SEC."