Football season is in danger. What does it mean for women's basketball?
All of the chatter is around football, but it affects basketball too.
Hi, everyone! Long time, no see on the newsletter. I took a bit of a break to refresh myself, and everything has been quiet on the college women's basketball front. As time goes on, the coverage will pick back up and become consistent. Remember, I want to bring you reads of the highest quality rather than quantity.
I'm working to report on some stories that I think you guys will enjoy. If you haven't subscribed already, you can do so here. I'm pleased with the following we have built to this point.
Enough talking, let's get onto the subject at hand.
---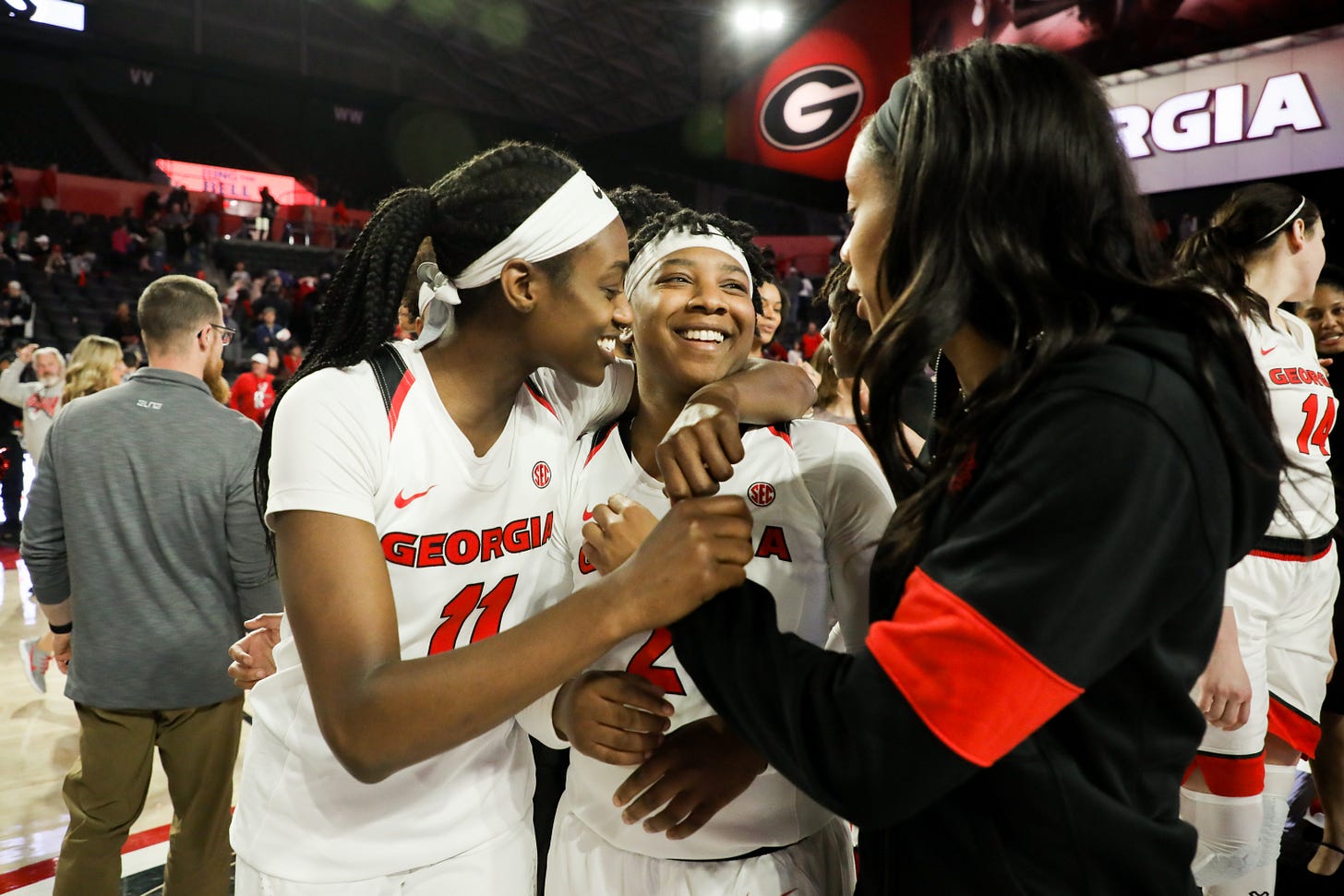 Nearly two months have passed since Georgia women's basketball players returned to campus amidst a pandemic. They've endured extensive workouts to get into shape. The practices likely haven't been relaxed, either, as it likens to any other week of game preparation.
All of this work is being done while the Lady Bulldogs don't know when they can suit up again.
The uncertainties around college sports are endless around Covid-19. Five professional leagues (WNBA, NWSL, NBA, NHL and MLS) have implemented bubble systems in which players and coaches aren't permitted to leave a certain area until the season or tournament is complete. Major League Baseball, however, has allowed travel and a couple of outbreaks have occurred and 20% of the league faced postponements in late July. At the college level, that doesn't seem possible with the aspect of amateurism, having to attend classes and other factors.
A question then becomes: How do NCAA athletics continue? A conference-only schedule is a start, because it limits travel. There's testing protocol in place, especially on the Power 5 level where it's affordable. Opt-outs are available for athletes who aren't comfortable, and they can maintain eligibility. Many questions and worries still remain.
There's an uptick in Covid-19 cases on college campuses, and UGA has the second-highest cumulative total nationally since March. Inevitably, that'll only expand once 30,000 students come to campus. These athletes also want a change in the system. They want to return to play, but want to ensure that athletes are able to collectively agree on protocols put into place while receiving monetary benefits for their likeness. One wonders why college football is on the brink? The aspect of amateurism is a big reason why.
Only six FBS leagues, including the SEC, and 76 teams are moving forward with plans to resume fall sports. Nobody knows if those plans will stay true, or if those standing will follow plans of the Big Ten, Pac-12 and others.
The remaining hope is that these schools and athletic directors see the need for some normalcy. Everyone continues to banter about football, but it also has a major influence on the Olympic sports — including women's basketball.
"We have an obligation to try and play," Georgia athletic director Greg McGarity said on July 30 after the football scheduling news. "These people have a three, four or five-year window to participate, and we have an obligation to try and make that happen. But it has to be done in a safe manner."
Eventually, we'll get to a point where basketball resumes. Most around the sport are optimistic that it'll be during the scheduled 2020-21 season, probably in a conference-only format. The Pac-12 has postponed all activity through Jan. 1, so those basketball seasons are already on pause.
Georgia's non-conference schedule only had one known opponent, Oklahoma. The yearly in-state games against Georgia Tech and Mercer were probably a given, too. At this point, it's a matter of time until changes are made.
The players are readying for a regularly-scheduled start, but don't count on seeing the first tip-off by November. A return to action around our lifetime's most-anticipated ball drop and turn of the calendar (2021) takes place.
"Once the rest of the country cancels football, then we'll know there's no fall sports at all," UConn head coach Geno Auriemma told the Hartford Courant. "Then we'll know there's no basketball games in the fall, so there won't be any games in November. And then we can start thinking about January maybe, or February, who knows."
Georgia players face the same challenges as teams across the country. They're working tirelessly without a clear end in sight. A few things, however must happen first: a clear protocol, an overwhelming sense of security by players and a semblance of a scheduling model.
Once those steps are taken, we'll know what's next for college women's basketball. An answer is what the Lady Bulldogs are practicing for.
Other notes
Georgia sophomore guard Chloe Chapman was named Outstanding Athlete of the Year by the Atlanta Sports Council. She is known for her role as a two-sport athlete in basketball and soccer, and is attempting to be the first athlete in program history to play both sports for four years.

Former Georgia guard Simone Costa will continue her overseas career after re-signing with the Nottingham Wildcats. Costa averaged 15.9 points per game in 14 contests last season.

Former Lady Bulldog Jasmine James accepted an assistant coaching position at Tennessee Tech.