Lady Bulldogs face roster changes with opt out, dismissal
Georgia's Kaila Hubbard and Shaniya Jones are not on the 2020-21 roster.
Georgia guard Kaila Hubbard (12) during a game against Mercer at Stegeman Coliseum in Athens, Ga., on Thursday, Nov. 21, 2019. (Photo by Tony Walsh)
ATHENS, Ga. — Georgia women's basketball officially began its preseason practice period Thursday. It'll do so without two role players at its disposal.
Shaniya Jones, who played for the second half of last season after transferring from Virginia Tech, has been dismissed from the program. Georgia head coach Joni Taylor said her dismissal was due to a "violation of multiple team rules."
Jones became a helpful addition to the Lady Bulldogs last season. Taylor consistently ran a deep rotation and Jones had a handful of breakout games. Her coaches and teammates called Jones a "walking bucket," and she showed it with a 21-point debut against Furman.
Jones played inconsistent minutes throughout conference play, but scored 21 points against Auburn and 10 points each at Arkansas and Kentucky. Jones averaged 4.9 points per game at a clip of 11.7 minutes per game.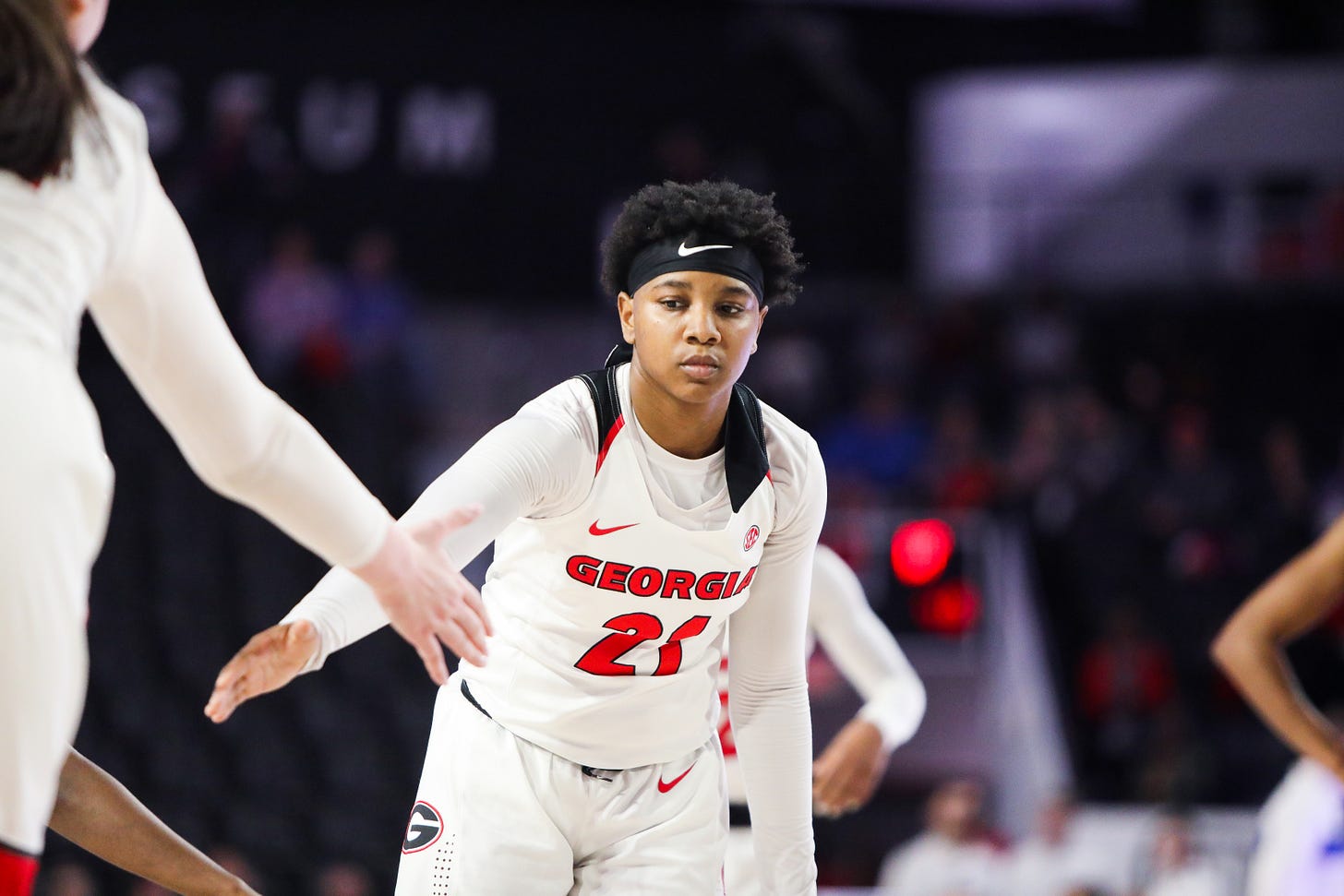 Georgia guard Shaniya Jones (21) perform during a game against Florida at Stegeman Coliseum in Athens, Ga., on Sun., Mar. 1, 2020. (Photo by Chamberlain Smith)
Georgia junior guard Kaila Hubbard opted out of the 2020 season due to Covid-19 concerns. During these times, Taylor referenced a conversation with SEC associate commissioner Tiffany Daniels, who said "We're literally building a bridge as we cross it."
"We support and respect her decision," Taylor said Thursday. "This is a challenging time for all of us. We're in so many uncharted waters. We totally understand and are looking forward to having her back next year."
Hubbard averaged 2.4 points per game and posted a career-high 10 points in a loss to Villanova.
Georgia enters the 2020-21 season with 13 players on its roster, as opposed to 14 last season. The Lady Bulldogs are confident, however, in a deep rotation that features four seniors — Jenna Staiti, Maya Caldwell, Gabby Connally and Que Morrison — along with depth at guard with freshman Sarah Ashlee Barker now part of the program.
---