Q&A: Joni Taylor on preparation, player development and 2020-21 season
Many adjustments have occurred inside the Stegeman Coliseum practice facility, but the Lady Bulldogs continue to prepare for an upcoming season.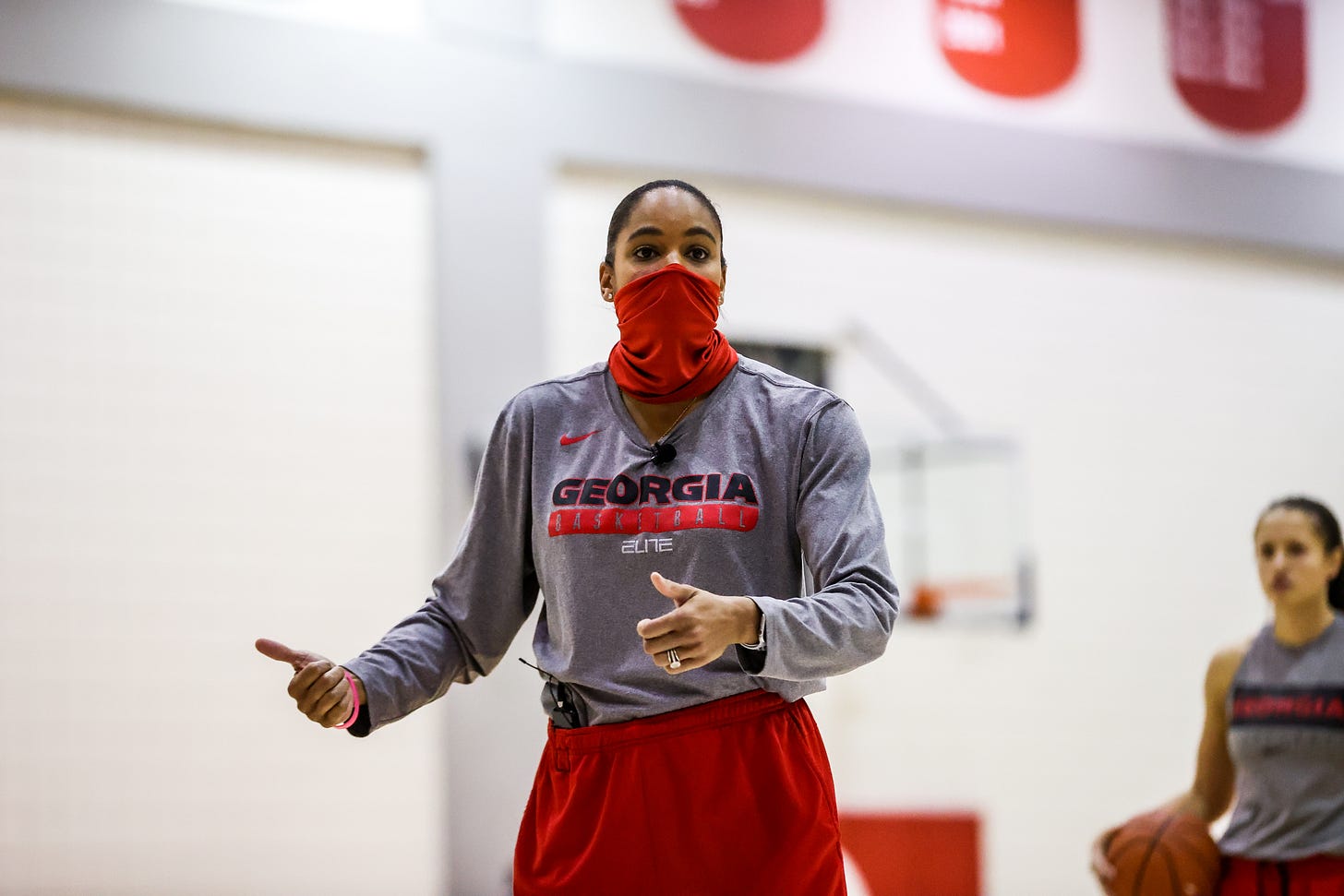 Georgia head coach Joni Taylor during the Lady Bulldogs' practice in Athens, Ga., on Thursday, Sept. 3, 2020. (Photo by Tony Walsh)
ATHENS, Ga. — Georgia head coach Joni Taylor cherishes memorable interactions with her players. They've had time together since the Lady Bulldogs returned to campus during the Covid-19 pandemic. But something pains the sixth-year leader about having to keep six feet of distance.
Taylor hasn't been able to hug her players. There haven't been the occasional gatherings at Taylor's home. Her players can't hangout in her office like they became accustomed to during their free time. Everything feels different for Georgia, but 2020 has dealt its share of challenges.
Georgia doesn't practice as a team, but instead the players are split into groups. There's the looming question of how a season might look, but the Lady Bulldogs try to prepare as if a per-usual start date is coming by the middle of November.
The doors to the Stegeman Coliseum Practice Facility remain open, but with a unique feel. The goals, however, remain the same.
"We've had quite some time to get a feel for our new normal," Taylor said. "There are more questions than answers at this point in terms of what things look like. (The players) have been very fluid and flexible in how they handled things."
Georgia finished last season on the cusp of an NCAA tournament berth, although no teams heard their name called due to cancellations. The Lady Bulldogs welcome new talent into the fold and hope that the 2020-21 campaign serves as a launching point to return to postseason play.
Taylor spoke with the Lady Bulldogs Report to survey what recent months have looked like and what is ahead for her program.
Q: Since returning to campus in June, what has this new-look preseason looked like for Georgia?
A: I'm very happy with the mindset our ladies had when coming back. At first, everyone came back and it was a ramp-up period for the first month. There was a lot of conditioning and weights before we started any basketball workouts.
I was very pleased to see them in pretty good shape when I got them back. They've been off since everything in March, but there's a certain mindset after not getting to have a postseason. I think it speaks to them maturing during this time. We've had a lot of conversations about leading with grace and being flexible. They've been great, so it looks different in terms of social distancing and practicing. We put them into groups to make sure they're safe. As a program, we're leading with safety first. That's what is most important. Keeping that at the front of mind makes every decision pretty simple.
We were doing no-contact with a lot of skill stuff. We used it as a time to get some details down and tweak some things offensively.
Q: Does it make it harder to progress as a team while having to split everything up?
A: I'm not going to use the word harder. It's an adjustment. It's different. We've had a long time to know it would be this way. We've talked about it over Zoom and prepared. It is an adjustment to not have everyone in at the same time. Once we got into it, we knew how to adjust drills when not having everyone together.
Q: Has anything stood out about the growth of your team? Have you noticed any individual progression?
A: You can point to someone at any point and say "She's shooting the ball better" or "Her body looks great" or "She's running very well." I could name 1 through 15 on our roster and point out something that I was excited about. That was my goal when we got them back — not have a lot of regression. It has been a long time since they've been together, and were on their own to do workouts while at home. We could not track that, give direction or monitor it in anyway. We had to trust that they did as they were supposed to. That put them in a position to help their team. We've been pleased with what we've seen.
Q: How greatly did offseason work — especially work with personal trainers — help your players during a return?
A: You knew they were doing something. You knew they had access to a gym, or in some cases, outside on concrete courts. Not everybody had the opportunity to hire a personal trainer, so some had to be more creative in how they got it done. We really challenged them to think outside the box in how to be ready to go.
Q: How does your team look from an injury standpoint? Has there been anything new arise since Que Morrison's labrum tear?
A: There are no new injuries, thankfully. We were concerned about things after having to separate because we didn't get to have end of the year physicals. We made sure our training staff and support staff were checking in to make sure nagging injuries were treated locally.
Que has been great after her surgery. She really attacked rehab hard. She's back practicing, although we haven't done contact with anyone yet. Obviously, she couldn't do that anyway (right now). She's shooting, passing, rebounding and looks really good. That's a testament to her, the staff and the doctors. In such a challenging time, she got ready to go.
Q: How do you relay a message to your players about not knowing how the season might look?
A: There are a lot of unknowns out there and a lot happening in each conference. We're going to leave that to our athletic directors, the president and our commissioner. We're going to put our head down, grind and work. Let's follow all protocols that have kept us safe to this point. When our number gets called to play and have a season, our job is to be ready to go. That's our focus, our charge and all we can control.
---