The basketball door keeps closing on Mackenzie Engram. Faith leads the next chapter.
Former Lady Bulldog Mackenzie Engram has tried professional basketball three times. She weighs whether to give herself another shot, and has made faith the leading force when making her choice.
Former Georgia women's basketball forward Mackenzie Engram prays at a race relations event in Atlanta, Ga. (Courtesy of Mackenzie Engram)
The door keeps closing. Mackenzie Engram's passions lay within basketball, but abrupt endings have become an impediment.
The former Georgia women's basketball forward saw her latest professional playing venture end after three games. Engram made her way to Umeå, Sweden (originally planning to play in Germany before paperwork and visa issues) and enjoyed a few weeks of suiting up for A3 Basket. The Covid-19 pandemic called her back home to Georgia. The latest shift marks Engram's third stint to end without much warning.
Her first opportunity came as a dream — literally and figuratively — as a third-round WNBA draft selection by Atlanta. Engram was one of the team's final cuts. She took the overseas route and signed a contract in Israel. Her objectives were to piece together a strong highlight reel to impress WNBA teams once more, get another invite to training camp and relive that process once more.
She left Israel due to unfavorable circumstances, has yet to get a WNBA call and a playing career has been halted again. Engram has taken the last few months of downtime to re-evaluate her career path. The next step is unknown, but Engram said her faith will lead the way toward the destination.
"I don't know if that's what I want anymore," Engram said while waiting through the coronavirus pandemic. "I might hang it up. I'm almost 25 years old without a steady job. I need to get my life going here."
Engram's post-basketball story is one of growth. She has been shut down and finds herself without a definite career choice. She believes she has become a more "mature daughter of Christ" and has undergone a personal rebrand, as Engram calls it.
"We talk about discerning what is the will of God and making sure she can find what's in her path," said former Georgia guard Haley Clark, who speaks with Engram almost daily. Engram added that her day feels empty without a FaceTime call to Clark. "She's trying to align her purpose in life to whatever door God is opening. She hasn't seen that door clearly open yet."
---
'Here, take it'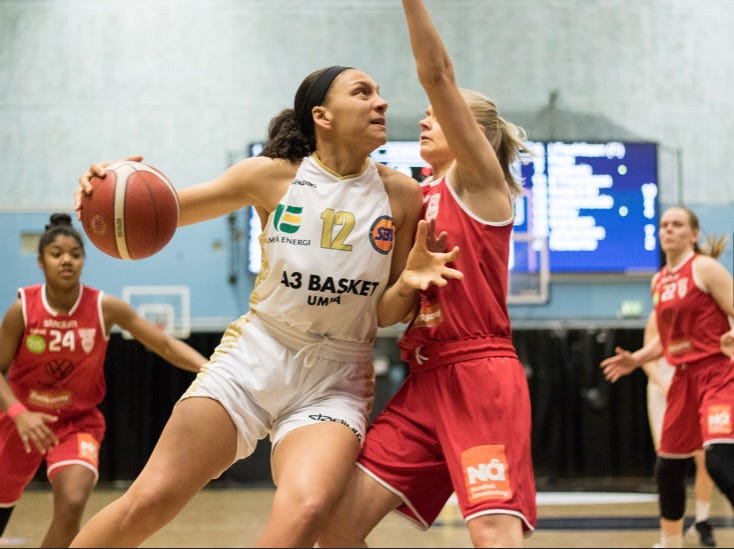 An action shot of Mackenzie Engram playing with A3 Basket in Umeå, Sweden. (Courtesy of Mackenzie Engram)
Engram worked through final months of her internship with the New York Giants — alongside her brother Evan Engram, the franchise's leading tight end. She missed basketball, but had second thoughts. Those doubts have been a frequent internal struggle with Engram, even back in 2018 when she decided between an internship with Turner Sports and becoming a WNBA draftee.
She prayed. She prayed some more. Engram then saw a sign. She stumbled upon an agent at a bar with her mother, Michelle Zelina. A moment of reassurance while maneuvering the hustle-and-bustle of New York City.
Patrick Arryn entered the picture. He is the founder of the Victorious Career Management sports agency and had past knowledge of Engram. Arryn noticed Zelina as Engram's mom and said that he wasn't supposed to be in New York that weekend, but their encounter happened by chance.
"God put him into my life at that time to say I needed an agent," Engram said. "I also considered that maybe I prayed so hard that God said, 'Here, take it.'"
She wanted to finish her internship (more on that later), and her time in New York got briefly extended once Eli Manning announced his retirement. Engram received a call from Jordan Frericks, formerly at Missouri, who said her team needed a player at the forward position. Engram fit the need, she signed a contract with Arryn's guidance, and then the Germany paperwork fiasco occurred.
Luckily, the team out of Umeå had a vacancy and Engram was able to start over there immediately. Engram quickly grew fond of Sweden and enjoyed it more than the other overseas stops. She had a few friends, everyone in the town could communicate in English, and her team duties included either a game or twice-per-day practice.
Engram's chance to display her faith came within a four-hour window between those practices, and that's where growth occurred. She wasn't yet at the point to be vocal about faith, but showed it by her actions. She would eat lunch at the local coffeehouse, do her daily bible study or watch a sermon. Engram might discuss it with a teammate or post her favorite takeaways to over 16,500 followers on Instagram.
In those moments, Engram felt a purpose in playing overseas.
"You always think basketball is life when you're playing," Clark said. "At the end of the day, it really doesn't matter. There's so much more to life and the purpose God has for us."
Engram sits at home to reflect, and her desires continue to waver. Two factors, however, turn her away from pursuing the sport again. She noticed herself getting frustrated on the court. That's a result of her competitive nature, but Engram knows an angry demeanor "isn't Godly or how you want to represent anyone." She didn't like those emotional swings.
She has also had some pause due to her heart condition. Engram was diagnosed with pericarditis in 2016 and it caused her to miss 15 games of her sophomore season at Georgia. She has noticed flare-ups of the condition, and that could sidetrack a potential return.
If an opportunity appears, however, Engram will take the usual approach — trusting in faith and discernment.
"I think that her faith is such an anchor in her life," Clark said. "So, if the door to basketball opens and God says walk through it, I believe she'll walk through it."
---
Exploring career paths
Mackenzie Engram poses on the sidelines of MetLife Stadium in East Rutherford, N.J. prior to a game between the New York Giants and New York Jets. (Courtesy of Mackenzie Engram)
Before each game at MetLife Stadium, Engram had the hookup. She found a photographer who would let her borrow a top-of-the-line camera lens. She would walk around the sidelines and snap photos of players and action shots to get a glimpse of the photojournalist lifestyle.
If Engram wasn't taking photos, you could find her editing in-game footage and posting it to social media. She might've been setting up a press conference one afternoon, then leading a one-on-one interview with a player on the following day. For an intern, Engram got a taste of every sports communications endeavor imaginable. It didn't hurt to have the best view of watching her brother play each weekend, either.
A career in sports media has been Engram's longtime goal. There have been plenty of opportunities and mentors to help — notably ESPN's Maria Taylor — along the way. Engram could never pinpoint what that role might be.
She might not have fully narrowed it down yet. But one duty can be checked off of the list.
"I don't want to be in charge of a big camera," Engram said. "I can't hold it for a full minute without feeling like my arm will fall off."
Engram has a creative mind that is full of various passions. Her list of choices is rather lengthy: basketball coach, graduate assistant (but would be unsure what to study), sideline reporter, photographer, running social media or leading interviews for video packages. She has even spoken with Evan about running a podcast together.
Since returning home, Engram has worked in a few different areas by taking on the entrepreneurial role. She offers photography sessions through her "Mackenzie Engram Photography" venture and has started a venture in custom jacket design with a "Denim by ME" business.
Engram frequently takes on new experiences, and remains patient in finding a main gig. As long as it involves a community of people and a chance to be influential, that's where Engram can be found.
"Eventually," she said. "I'll have to figure it out."
---
Branching out
Mackenzie Engram reads the Bible and journals with her dog, Leo (who also has an Instagram account of his own), watching in her lap. (Courtesy of Mackenzie Engram).
Engram decided to go for it. She sat in her bedroom, propped her phone up and decided to share a sermon on faith to Instagram. She called the series "Talks & Things With M.E." She essentially winged it, didn't have a plan to approach it but allowed her heart to speak.
"Not that you asked," Engram said in her first video on March 23. Her dog, Leo, waved his tail in the background. "I like interacting with you guys and I like talking … so."
She did her first few videos, and the doubts crept back in. Engram didn't know what the true reception of the videos was, if speaking out on a social media platform had its value or whether people were hearing the messages. She decided to keep going after some encouragement from her inner circle pushed her forward. Each of the faith-based videos ranged from 1,500-4,500 views on Instagram, and many applauded Engram for honesty and transparency.
She saw it as more than helping other people, too, although that's her ultimate goal toward taking this next step.
"It gives me a reminder to be in God's word. It keeps me going," Engram said. "It's about being a light on things that people might not be comfortable speaking about."
Engram has touched on a number of topics since the beginning of March. She pulls her favorite lessons from books or sermons. She has interactions with open question forums about faith. She fulfilled the ultimate goal of her so-called rebrand. Engram wanted to make sure people knew about the importance of being an active follower of Christ.
She nearly resembles the role of a preacher. Engram realized that not many female athletes are willing to share their personal experiences through social media — especially the not-so-shiny aspects of faith.
"Especially in this time, what greater thing is there to do than spread the word of God?" Engram said.
"It's bold and vulnerable. She's being real and not hiding anything," added Clark, who said Engram feels a frequent tug to share her trials with others. "She communicates it so gracefully and there's a power behind how she speaks."
Engram finds herself in a place of uncertainty, much like the rest of the world during these unique times of a pandemic. She doesn't know what lies ahead, but the basketball player-turned-media member is most fulfilled with the chance to spread her faith.
That'll allow her to open the right door, whenever it does appear.
"You understand the love Jesus has for you, but then you want to walk in that and give it to others," Engram said. "I'm trying to live the way He intended us to live. That allows me to be more free and confident."