'The rest is history': How a tweet led Georgia to an undiscovered diamond in Kimora Jenkins
Kimora Jenkins had no Power 5 offers when posting a midseason highlight tape to Twitter. A retweet and a direct message later, Georgia had a 2021 commit from New York.
Welcome to the Lady Bulldogs Report. I'm so grateful to have you on board and following along. This will be a venture where my priority is to bring consistent and in-depth coverage.
Be sure to follow along for a ton of written stories, a few audio podcasts and even the occasional discussion forum. Tell your friends to join along, too!
Any questions? You can find me on Twitter (@brandonsudge) or shoot me an email at bsudge@gmail.com.
---
Georgia assistant coach Chelsea Newton poses with 2021 pledge Kimora Jenkins for an in-home visit prior to the Covid-19 pandemic. Newton made a trip to Long Island, N.Y. before Jenkins' commitment. (Courtesy of Kimora Jenkins —Submitted)
ATHENS, Ga. — The high school basketball season sat at its midway point. Kimora Jenkins sat down to make a highlight reel. She gathered some of her favorite passes and blended it with some music to showcase her vision as a point guard. There were a few scholarship offers to her name, but wanted to gain a bit more exposure.
She never expected what came next.
Her AAU coaches at Bria Holmes Elite retweeted her video. Once one account shares, many follow and the video becomes dispersed across many timelines. A Georgia women's basketball fan account, run by Tyree Smith who is enamored in any recruiting news throughout the sport, follows many AAU teams. He shared the tweet with Georgia assistant coach Chelsea Newton, who had northeastern ties as a Rutgers alumna.
"I instantly saw this kid was talented," Smith said. "I really liked her because she was a big guard."
Newton already saw the video. She became intrigued by a few assists, but didn't recognize Jenkins' name from the video shared by AAU coach Danny Lawhorn. Jenkins didn't have much of a recruiting profile, a few offers from St. Bonaventure and Hofstra when this moment occurred in February and pursued her spot on the national radar for the 2021 class.
Newton's eye for talent is trusted by the rest of the Lady Bulldogs' staff. If she sees potential in a recruit, head coach Joni Taylor will allow pursuit of the prospect. Newton made calls to Lawhorn, Millbrook head coach Pat Stewart and those connected to Jenkins within basketball.
"Who is this kid?" Lawhorn said, recalling the gist of Newton's ask.
Jenkins received strong evaluation. Newton made frequent contact with Jenkins in an effort to evaluate her character and build a bond. A few weeks before the Covid-19 recruiting dead period began, Newton made a visit to New York to watch Jenkins play at Millbrook, then followed with an in-home visit in Long Island.
"She really saw it and said 'Holy cow, this kid can really play,'" Stewart said. "The rest is history."
Jenkins had immediate admiration for Georgia and what it had to offer. She enjoyed Newton's personality, mainly her straightforward approach an how she'll "tell it how it is," Jenkins said. Along with the WNBA track record and humor, of course.
Newton's enthusiasm reciprocated, because a scholarship offer from Georgia followed on Feb. 28. The first Power 5 school to give the 6-foot guard that chance.
"My dream has always been to play at the highest level possible," said Jenkins, whose bloodlines trace through basketball. "It meant a lot to hear that it could actually happen and that (Georgia coaches) saw my potential."
Jenkins hasn't yet been to Athens. All of her interactions — aside from Newton's trip — have been by phone, Zoom or text message. She's also heard from current players, Mikayla Coombs and Maya Caldwell. Nearly three months after the offer, Jenkins didn't want to waste any more time and committed to the program.
She said Georgia had a "different feel than any other program," and surprised the Lady Bulldogs' staff with a FaceTime call. Jenkins originally told the coaches she wanted to visit with other schools before deciding between Georgia, East Carolina, Seton Hall and West Virginia.
Then, Newton's phone rang. A scream followed. Georgia locked in its diamond that no one else knew about at the time.
"I fell in love," Jenkins said.
---
Why nobody knew
Kimora Jenkins looks for her teammates while initiating a play during a Millbrook game. (Courtesy of Kimora Jenkins)
Jenkins is a prep school star at Millbrook. She leads the team, frequently has Stewart and the coaching staff in awe and gains a fair amount of exposure at the prep school in upstate New York.
So, why didn't a recognizable point guard in the northeast have a Power 5 offer?
Each time the calendar turned to the AAU circuit, the fortunes turned against Jenkins. She started at the Riverside Hawks program in New York City, and the injury bug hit. Jenkins was supposed to showcase her skills for Bria Holmes Elite AAU in Connecticut during 2020, but a pandemic had other plans.
The summer months are biggest for showcasing talents. A slew of college coaches attend events across the country in hopes of luring a top target or finding a new one — like Jenkins. Before the 2018 summer schedule began, Jenkins suffered stress fractures and had to sit out. A year later, a bone bruise on Jenkins' left knee sidelined her.
"It was very frustrating," Jenkins said. "These injuries prevented me from getting great opportunities."
Added Lawhorn: "As soon as they see her at a live event, that's all it takes."
Sometimes, one Power 5 offer can serve as the catalyst. Georgia's offer caught the attention of its recruiting foes and Jenkins' interest increased. Lawhorn kept getting calls, and gave a warning to Georgia that it "might be too late" if the offer didn't come when it did.
Jenkins had the obvious connection with Georgia. But a number of currently-prominent programs wanted to make their pitch. Lawhorn received inquiries from Michigan, Michigan State, Oregon, Oregon State among others. West Virginia became the only other Power 5 program to offer. If they were to see an uncommitted Jenkins play, then the end result could've been different.
In a way, the Covid-19 pandemic worked in Georgia's favor. Newton finished the recruiting deal before others could enter the race.
"It definitely happened at the right time," Jenkins said. "They jumped before anyone else. This summer was going to be a great opportunity for me."
---
'Be the face of a program'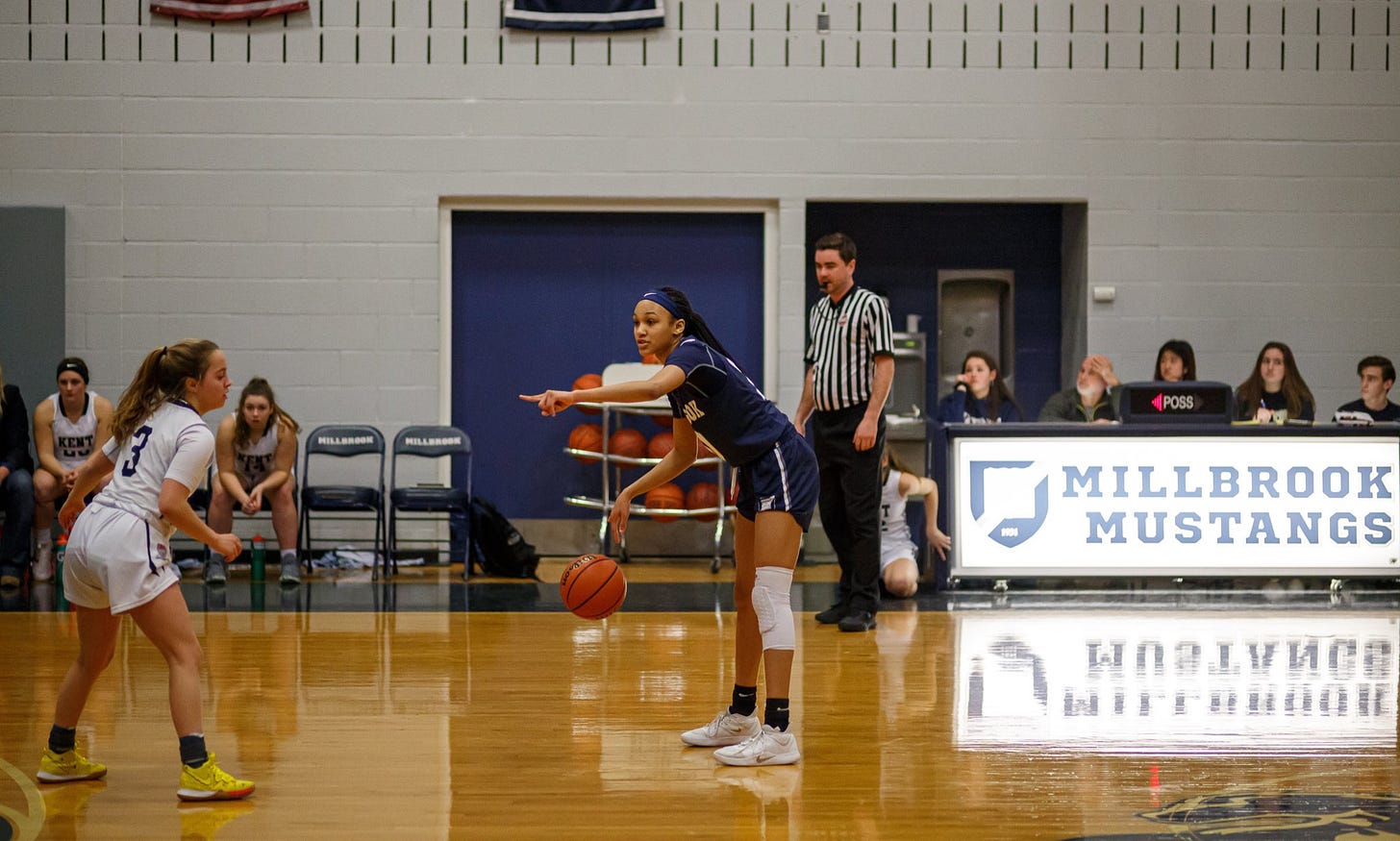 Kimora Jenkins points toward a teammate during a Millbrook girls' basketball game. (Courtesy of Kimora Jenkins)
Millbrook played in a holiday tournament and went into the Sunday game with an 0-3 record. It was 9 a.m., and the Mustangs were playing their third game in a 36-hour span. They were all exhausted and on the brink of leaving winless.
At the start of the fourth quarter, Millbrook trailed by 10. Jenkins came alive. She had a euro step layup that left Stewart fascinated. She racked up steals, rebounds, and her fair share of scoring. Jenkins' baffling play came as she stood on the opponent's free-throw line. She saw a teammate on the other free-throw line, launched a perfectly-accurate football pass while a defender stood in her face.
She led Millbrook to an epic comeback.
"Something flipped in Kimmie's eyes," Stewart said. "She went off."
That's not the only time Jenkins has wowed those at Millbrook. She has elevated and scored over 6-foot-4 forward Morgan Lee, a Power 5-caliber talent in the 2022 class, and emotionally willed her team to a win over the Kent School. On another occasion, Millbrook had a handful of injuries against the Gunnery School. Jenkins "almost singlehandedly," Stewart said, led the Mustangs to victory.
Jenkins possesses a rare trait — height. She stands at 6-foot as a point guard and draws strong reviews for her vision and quickness. For comparison, Georgia has six guards under 5-foot-9 and senior point guard Gabby Connally is 5-foot-6. Freshman Sarah Ashlee Barker is the only 6-foot guard on the current roster.
Jenkins used to model her game after older brother Darien Jenkins, a recent transfer to Texas State. She now takes bits and pieces from everyone she watches. Jenkins follows the WNBA and admires the talents of Maya Moore, Sue Bird and Skylar Diggins-Smith.
"She does everything well," Lawhorn said. "She can score off of the dribble and is a great passer at her size. She posted up defenders. But instead of her being excellent on offense and just good on defense, I want her to be excellent on both."
Jenkins' current shortcoming is her strength. She understands the need to add muscle ahead of entering the college game. She meets with a pro performance specialist in Long Island who works on agility, speed and strength. Through the coronavirus pandemic, Jenkins has done 150 pushups per day along with a variety of core exercises.
She wants to play at the highest level. That's always her ideal destination, and she even thinks about a future in the WNBA or playing overseas professionally. The injuries and setbacks, however, created a delay in realizing that potential. Some reassurance came when Newton called.
"The offer itself gave me a boost of confidence," Jenkins said. "They say I can help the program right away, and they realize my attributes and potential."
Those across the recruiting landscape might not have known Jenkins, but everyone around her awaits her chance at Georgia. They hold high expectations and use the term "elite" to describe her talent. Lawhorn said Jenkins can play "anywhere in the country."
But they all saw value in Georgia. The team that stumbled upon Jenkins by a tweet.
"I told her to go somewhere and be the face of a program. She could go and turn a program around," Lawhorn said. "She can be remembered, and not just be a role player. There's so much that she can offer."